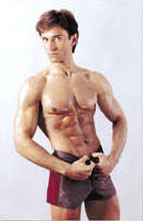 An Open Letter to Fitness Celebrity John Basedow, of "Fitness Made Simple".
Hello there John!
I have spent the last day and a half pondering the logic behind what makes someone a "Fitness Celebrity". Surely someone who is in fact a celebrity in the fitness world, such as Richard Simmons, Susan Powter, Billy Blanks or Jack LaLanne would not need to preface their name with "Fitness Celebrity" on all of their ads and press releases, right?
Unfortunately there is a bit of a logical & semantic black hole with your use of the phrase "Fitness Celebrity". If you are, in fact, a "Fitness Celebrity":
1) I would probably think "oh yeah, that fitness guy" just by hearing your name on it's own (sans phrase).
And more importantly
2) I probably would have been aware of your existence before you introduced yourself, initially, as a "Fitness Celebrity".
The only way I can piece together any rational behind this is that the title is an exercise in self-actualization. Maybe I should give up my maiden & married last names, replace them with my first and middle names, and finally replace my first and middle name with the phrase "Intellectual Goddess".
Folks are blind-sighted by titles all of the time. Lord knows I see it at work. Arn't we all just actors, trying to convince our friends, co-workers, lovers and families that the reality in our heads should be true in your head too? So if I can effectively convince people that I'm the best, I will be – at least in those heads. And if those heads also have wallets that are full and waiting to be emptied in exchange for my "Genius", then what more do you need (especially if there are enough folks with enough cash to pay my bills)?
It appears that you have inadvertently developed a new self-help program - "Actualization Made Simple". Sell Sell Sell. Convince Convince Convince. If there ain't an impressive title that suits you and your goals, make one up. Someone is bound to believe you. Which means someone out there is bound to believe me.
Your pal,
Literary Genius Aj